Do you want to connect with 600+ key players in the Healthy Ageing sector?
Attend AgeingFit on January 29th & 30th, 2019 in Lille, France!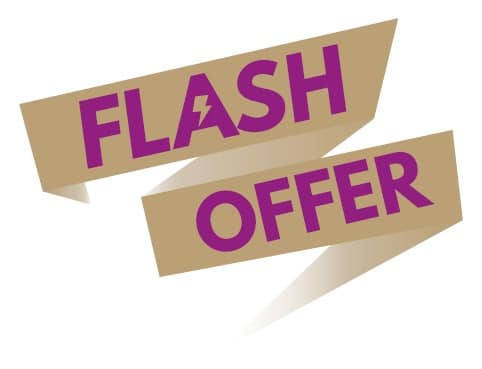 Register before Novembre 11th and get a free visitor pass*
*This offer is valid for any purchase with the minimum amount of €295. The visitor pass gives you access to all AgeingFit activities, except to the partnering platform. This offer cannot be combined with other discounts.
Showcase your innovation product or service at AgeingFit 2019
Through the Innovation Pitches, AgeingFit promotes innovations dedicated to improving the everyday lives of ageing people and healthcare professionals and aims at preventing age-related disorders.
Apply to the Innovation Pitches!
The Innovation Pitches allow you to present your innovative project, product or service in front of a jury of experts and potential partners and investors, thus enhancing your visibility.
Organisations entitled to present their innovative technologies or solutions:
Start-ups
SMEs
Care organisations
Academic institutions
Healthcare professionals
Large companies
How does it work?
1/ REGISTER for AgeingFit
2/ DOWNLOAD to get your application form
3/ APPLY before November 30th, 2018
For the selected candidates:
 A 5-minute pitch of your project in front of the jury of experts and potential partners and investors

 A dedicated meeting space at the heart of the AgeingFit exhibition

 Speed-mentoring from experts to boost the development of your project
We are very honoured to count Apréva among the Sponsors of AgeingFit 2019!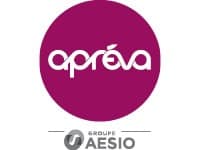 Apréva is the leading health insurance company. Rich from its history of more than 80 years, Apréva reinvests itself and renews itself constantly, adapting itself to the evolutions of the society and its sector.
At the same time attentive and effective to face the difficulties, the mutual Apréva is not only a supplementary financial recourse. It animates and strengthens its mutual project around the idea of ​​"benevolence of all times". This is why it is involved in sustainable actions for the benefit of the health, balance and well-being of the members.
Independent professional, salaried, boss or retired, Apréva accompanies every day, on all terrains and is committed to providing solutions to live serenely at any age.
Join one of the key AgeingFit 2019 sponsors to have the opportunity to:
Associate your image to the main business convention for the healthy ageing sector
Reassert your corporate focus on innovation in the senior market

Bring out your ideas and products

to the key players of innovation in the 50+ market

Enhance your visibility

at an international scale and get identified as a key innovative actor
Jean-François Delage, Vice President in Innovation & Research, McCain, joined the AgeingFit steering committee 2019!
After graduating from a Chemistry engineer degree in the National Graduate School of Engineering Chemistry of Lille in 1984, Jean-François Delage started off his career by working at Procter & Gamble. From a Department Head to a materials Flow Director in the company, his actions driven for sustainable results lead him to Peaudouce-Molnlycke Health Care Company as a Supply Chain Director in 1994. For more than two years, Jean-François will  look for unconventional solutions to uncover Business opportunities and generate added value proposition customers and consumers all along the entire supply chain.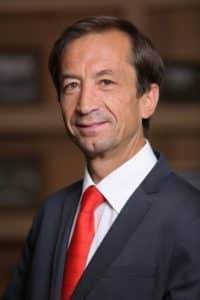 With efficiency & effective execution, Jean-François works hard to deliver against the commitment. That's why, in 1996, the French native is hired by the European Subsidiary of McCain Foods where he will apply his knowledge to the chilled potato business. The people centric supply chain director will soar during a twelve year career in the company. Today as the vice president in innovation and research, he discovers, creates, develops and successfully commercializes potato centric opportunities that brings growth, differentiation and innovation for McCain as an international potato powerhouse.  He designs an innovation process and excellence in execution for successful Go to Market with entrepreneurial leadership as well as to create an innovative climate for McCain.
But his professional expertise isn't the only tool propelling him to the top. Delage is people centric. He teams-up, communicate openly & relentlessly and distills trust. His work shows that he isn't afraid to take risks.
Jean-François Delage is dedicated to bring the best innovation solutions to McCain including nutritional values, one of the challenges of food sector.
And the winner is… Triple W!
During this 2nd edition of AgeingFit, 11 innovations were honored this last 7th February, 2018.
Among these 11 innovations, the company Triple W introduced DFree and won the Pitch Innovation Prize.
DFree is a wearable device which can predict when somebody needs to go to the bathroom. It analyzes the change of the bladder size by ultrasound sensors to predict the timing of urination.
"We would like to provide our product DFree to 10M people until 2020 and make it as a new standard senior care with dignity without putting pressure to family or caregiver as we believe that can help people in the world . We already feel that AgeingFit and this prize help us a lot to develop our internationalization to achieve this goal. That was the exact reason why we joined the Pitchs Innovation so that we  very appreciated this opportunity and we would like to continue to find good partners or supporters to challenge together to create better life for our futur." Naomi Marie, from Triple W.
Discover the speakers of the plenary session!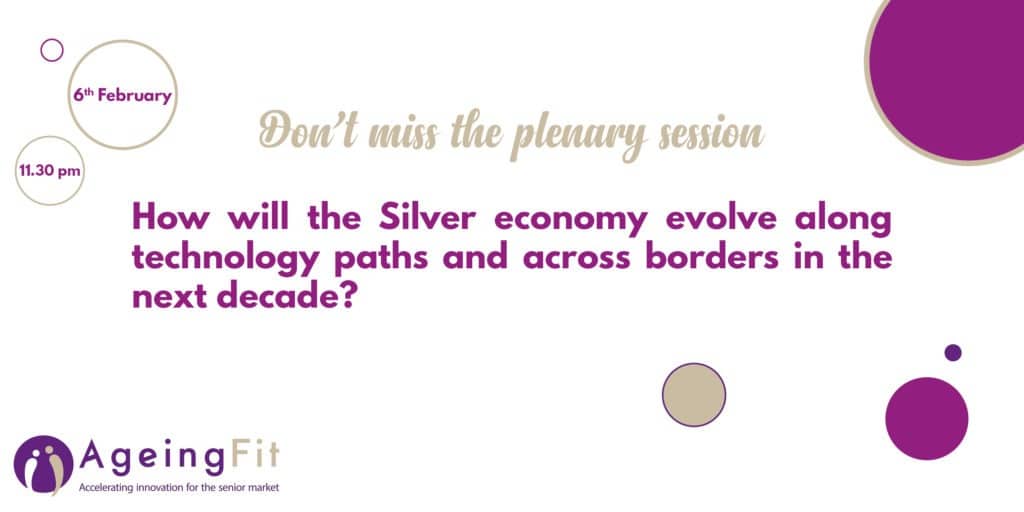 The Silver economy covers many products and services using technologies (home automation, sensors, connected objects…) to cover the needs and demands of seniors over 50.
The sector deals with the heterogeneous and difference of consumption between working retirees and dependent older people and evolves within a complex financing ecosystem that does not facilitate a clear definition of the sector stakeholders relationships.
Can we predict that the Silver economy will become a fully-fledged sector of activity where companies currently involved, would feel included, despite the diversity of their activities?
What are the current initiatives to make the Silver economy a clearly established economic and industrial sector?
What will be the future initiatives to make this sector clearly economic and industrial?
That is a subject as delicate as it is interesting, that we will be happy to debate with the plenary session dream team on 6th February from 11.30 am to 1.00 pm.
Moderator: Astrid Stuckelberger, President, Geneva International Network on Ageing (CH)
Alain Legros, General Manager, Balder SPRL (BE)
Jean-Michel Lheureux, Director Statistics and Methods, AViQ (BE)
Peter Varnai, Principal Health and Life Sciences, Technopolis Group (UK)
Ian Spero, Founder, Agile Ageing Alliance (UK)
Riyad Karim, Business Development Manager, Lancaster Hammond (UK)
Ashok Ganesh, Director of Innovation, CEN-CENELEC (BE)
Can't wait to attend the session? So can't we!
Be sure to join us 6th February from 11.30 am to 1.00 pm in Nice.
Check out the whole programme and the agenda!
Americans may be warming up to the idea of using unmanned aerial vehicles — or drones — to deliver Amazon packages or take pictures of unreachable places like remote mountain ranges or hurricane-decimated landscapes.
But what about using indoor drones to help older people get their hands on a bottle of medicine that's in another room?
Sound like an outlandish idea? Naira Hovakimyan, a roboticist at the University of Illinois, isn't laughing.
Hovakimyan recently received a $1.5 million grant from the National Science Foundation (NSF) to explore the possibility of using small drones to perform simple household chores.
NSF picked the right person.
Hovakimyan recently told The New York Times that she believes drones will become an everyday fixture — as ubiquitous as cell phones — in the homes of older people. Within a decade or two, she says, indoor drones will be reaching under the table to grab an object, cleaning chandeliers, and weeding the lawn.
AgeingFit is delighted to host the IGAM congress for two half-days during the 2018 edition.
The congress theme will focus on "What's new in geriatrics and gerontology ? News from the sector" and will take the form of conferences, round tables and posters.
More information soon.