We are very honoured to count Apréva among the Sponsors of AgeingFit 2019!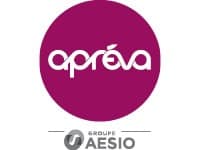 Apréva is the leading health insurance company. Rich from its history of more than 80 years, Apréva reinvests itself and renews itself constantly, adapting itself to the evolutions of the society and its sector.
At the same time attentive and effective to face the difficulties, the mutual Apréva is not only a supplementary financial recourse. It animates and strengthens its mutual project around the idea of ​​"benevolence of all times". This is why it is involved in sustainable actions for the benefit of the health, balance and well-being of the members.
Independent professional, salaried, boss or retired, Apréva accompanies every day, on all terrains and is committed to providing solutions to live serenely at any age.
Join one of the key AgeingFit 2019 sponsors to have the opportunity to:
Associate your image to the main business convention for the healthy ageing sector
Reassert your corporate focus on innovation in the senior market

Bring out your ideas and products

to the key players of innovation in the 50+ market

Enhance your visibility

at an international scale and get identified as a key innovative actor