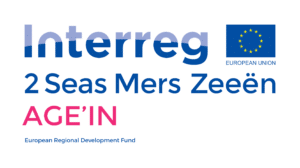 Age'in: the european challenges to tackle for better age in place  
Wednesday, March 2nd, 2022

With 1 in 5 people over 65, the European population is one of the oldest in the world. Indeed, according to Eurostat, the proportion of the population over 80 years of age is expected to increase 2.5 times by 2100, from 5.8% to 14.6%.
In order to face this demographic wave, the understanding of home issues by the elderly is a key element. To this end, the Age'in project consortium has been working for nearly four years on this subject, in contact with the elderly, to build together the solutions to be provided to them to improve their quality of life and enable them to remain living at home for longer. Robotics, home design, innovative housing models, or prevention solutions; all the actions carried out by the project's partners, which will allow you to better understand the issues to be addressed for a better support of seniors, will be presented during this event!
10.00 – 10.30 am  – Welcome coffee
10.30 – 11.30 am  –  Plenary 1 : Keeping autonomy: How to provide prevention and information to the elderly public ?

11.30 am – 12.30 pm  –  Round table 1 : Innovative Housing Models for an Ageing Population
12.30 – 2.00 pm  –  Lunch Break
2.00 – 3.00 pm  –  Plenary 2: social innovation : how to raise awareness
3.00 – 4.00 pm  –  Plenary 3 : Home adaptation: breaking the technology barrier
4.00 – 4.30 pm  –  Coffee Break
4.30 – 5.30 pm  –  Round table 2 : How robotic technology will be transforming the care of the elderly ?
5.30 – 6.00 pm  –  Conclusion speech