We are very honoured to count AÉSIO among the Sponsors of AgeingFit 2021!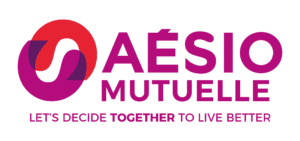 The AÉSIO group, leader in the health insurance solutions, is established in 2016 across the union of Adréa, Apréva and Eovi Mcd. Thanks to the mobilization of teams and the complementarity of networks, Aésio currently protects 3 million people, including 40,000 companies.
The Group has one ambition which supporting its members at every stage of their life, by offering them comprehensive insurance and service solutions that meet their needs today while anticipating those to come. These solutions are designed with all the partners on a cooperative basis, as close as possible to the people needs, to allow them to live in better health and, beyond that, to live better. The creation of the mutual benefit insurance company, Aésio also provides greater financial solidity, giving mutual health insurers the margins for their development and transformation. This structure must also result in renewed capacities with the aim of meeting in particular the challenges of access for all to quality care, aging and the chronicisation of diseases.
Join one of the key AgeingFit 2021 sponsors to have the opportunity to:
Associate your image to the main business convention for the healthy ageing sector
Reassert your corporate focus on innovation in the senior market

Bring out your ideas and products

to the key players of innovation in the 50+ market

Enhance your visibility

at an international scale and get identified as a key innovative actor