If not already done, you have to register who will attend the event with the pass(es) included in your stand package : here
The conference name badge need to be printed.
It will be sent to you by email a few days before the event and will also be available for download on the partnering platform.
INSTALLATION AND DISMANTLING SCHEDULE
To set-up your stand:
5th March, 2023 from 4.00 pm to 7.00 pm
6th March, 2023 from 7.00 am to 8.30 am
Have a look at your stand design: here
To take down your stand:
At the end of the event on 7th March, 2023 from 5.30 pm to 7.30 pm
For safety reasons, stands may not be partially or completely cleared before the official dismantling period which begins at 5.30 pm on 7th March 2023
If you have parcels to return, please ask your carrier to make it on 7th March from 5.30 pm to 7.30 pm or on 8th March from 9.00 am to 12.00 pm
Parking 
On 5th March, you can use the exhibitor's car park located on rue Javary, 59000 Lille
On March 6th and 7th, you will have to use the paid parking of the congress centre.
As an exhibitor you can benefit from a preferential rate by ordering your parking space before the event, using the following document
You can send your exhibition materials to the venue "Lille Grand Palais" to be delivered on March 3rd, 2023 in the morning only.
Please print this sheet and stick it on each package.
NO PACKAGES WILL BE ACCEPTED WITHOUT THIS LABEL.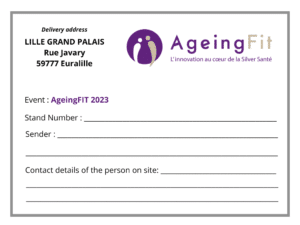 Delivery Address:
LILLE GRAND PALAIS
AgeingFit 2023
Rue Javary
59777 Euralille
It is IMPERATIVE that we can identify each parcel. Any parcel that cannot be identified will be rejected. Delivery and return of parcels are the sole responsibility of the exhibitor. Lille Grand Palais and the organizer shall not be held liable in regards to this.
| | | | |
| --- | --- | --- | --- |
| | 5th March | 6th March | 7th March |
| EXHIBITORS | 4:00 pm – 7:00 pm | 7:00 am – 7:30 pm | 7:30 am – 7:30 pm |
| DELEGATES | | 8:30 am – 7:30 pm | 8:30 am – 6:00 pm |